SAMS ODISHA +2 ONLINE APPLICATION FORM 2018 : Department of Higher Education (DHE), Odisha has published the online application form the  +2 (Pus Two) Online Admission  2018. The admission will be done by online mode only by Common Application Form (CAF) is available in the website www.samsodisha.gov.in. Who want to take admission into Plus Two (+2) courses in any stream, that is Arts, Science or Commerce in any colleges (Private/Government) all over Odisha has to apply by this common application form (CAF). The Common Application For The +2 E-Admission may starts from 1st June 2018 to 22nd Jun-2018 (11:45 Midnight). Last date of submission of CAF in the SAMS centre is 23rd June 2018 (05:00 PM). Students can apply by following the below given procedure. The details step by step procedure for SAMS Odisha E-Admission is mentioned below with image.
29th June 2019 11:00 A.M
[1ST JUNE 2018 TO 22nd JUNE 2018]
SAMS ODISHA +2 ONLINE APPLICATION FORM 2018 KEY DATES
+2 Online Registrations Starts : 1st June 2018
Last date of Online Apply :

 22nd June 2018 (11:45 PM)

Submission of the Hard Copy at The SAMS centre :23rd June 2018
First Selection list : 29th June 2018. (11:00 AM)
Admission of First Selection Applicants : 2nd to 5th July 2018
Second Selection list will Publish on : 10th July 2018
Admission of Second Selection Applicants : 11th to 12th. July 2018
Publication of the Spot Merit List three times to the balance sheet after second merit list admission : 16th July 2018
Registration of students for spot admission in the respective Higher Secondary Schools : 18th July (2:00pm)
Publication of final list of spot admission out of the students registered at respective Higher Secondary School : 18th July 2018 (3:00pm)
Admission of the students Selected in Spot Selection : 23rd-July-2018
Classes start for the 1st year students : 24-July-2018
Admission for the students passed in Supplementary/instant Examination : Within 20 days from the date of results publication
The step by step online apply process is mentioned below.
STEP 1 :
In this step you have to register your MOBILE NUMBER, EMAIL ID with the SAMS website and Set a PASSWORD. TO complete the 1st step, click here. You will see a page as shown below. Click on the NEW STUDENT, REGISTER NOW, button.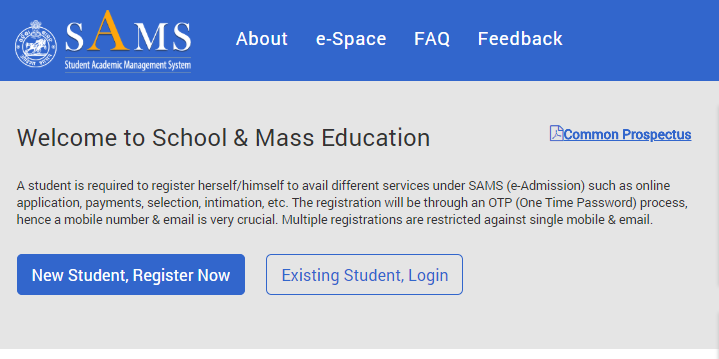 Now you will see a web page as shown below, in this page you have to enter the below given details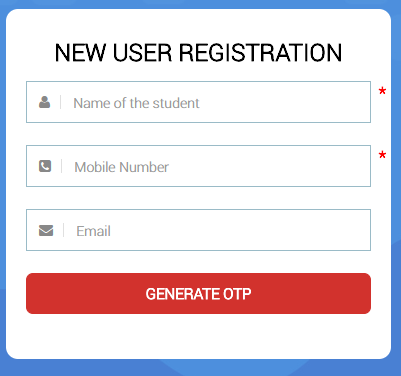 YOUR NAME

MOBILE NUMBER

EMAIL ID

Then click on the GENERATE OTP button. You will receive a

OTP SMS i

n your number then. You have to enter that OTP on the next page, and SET A PASSWORD for your application form. Keep this password secret. Now your STEP 1 is over.
STEP 2 :
Now login to your account by clicking here. You will  see a page as shown below.
Enter your MOBILE NUMBER, PASSWORD and CAPTHA here.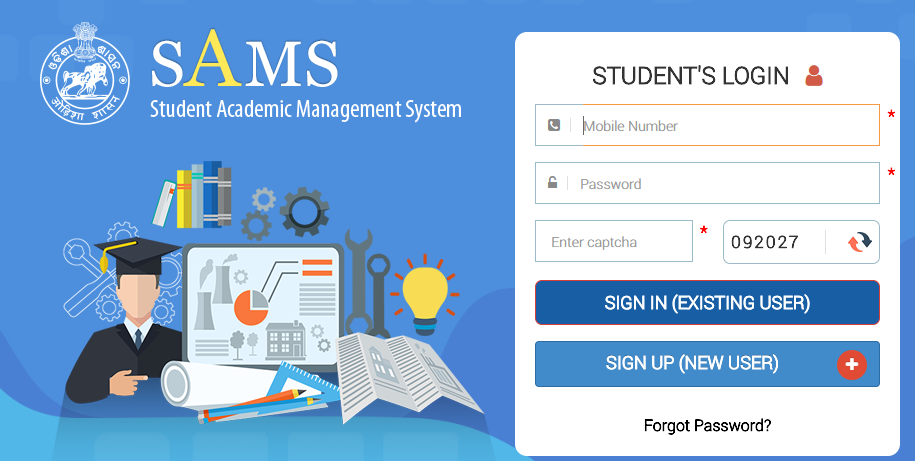 STEP 3 :
After login to your application form you will see a page as shone below.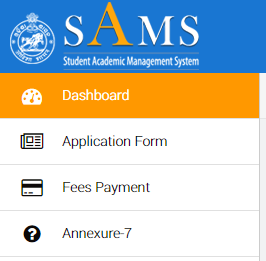 Click on the APPLICATION FORM, and choose the +2 online application. You will see a BLANK FORM As shown below. In this form you have to enter the below given details.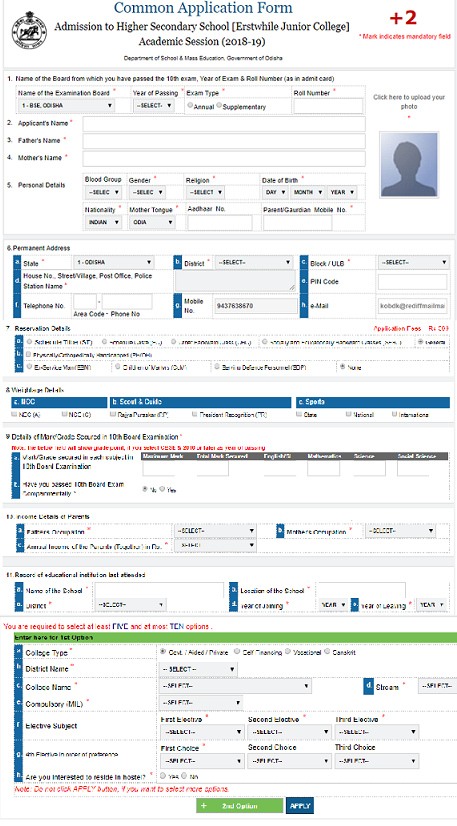 PERSONAL DETAILS:
Application Type : Fresh
HSC Roll Number
Name
Mother's Name
Father's Name
Gender
Email Id
Mobile Number
Social Category
Marital Status
PRESENT ADDRESS:
Address
Country
District
PERMANENT ADDRESS:
Address
Country
District
STREAM NAME:
Arts
Science
Commerce
EDUCATIONAL QUALIFICATION:
Examination Passed
College Name
Mark Secured
CHOOSE COLLEGE:
This step is very important, because, here you have to Choose the colleges in which you want to take admission in the order of preference. You can give 100 options from the list of colleges. But for each choice you have pay Rs 50/-more. But you should give more than one option, because it will help you to get a seat in any colleges in Odisha. Then click on the submit button. Now you will see a page as shown below to upload your Scanned Photograph and Signature
Upload a scanned photo graph with in 100kb size in JPG/JPEG/PNG format, and Signature of 50Kb size in the same format. Then click on the submit button.
STEP 4:
Now you will be directed to pay the fee via online mode. You can pay the fee via debit card, credit card or online banking method. Now take the print out of the submitted online application form. You will get one Applicant Copy and one College Copy. Keep the applicant copy with you and submit the College copy in the SAMS centres.
Submission of Printed Copy In SAMS centre :
In this step you have to visit your nearest SAMS centre for submitting the printed copy of the application and the required fee. It consists of following steps.
Put your Signature on the Printed application form and attach the below given documents with the application and go to the nearest SAMS centre and submit it . SAMS Centres are located in the Government college. For a list of SAMS centres in odisha Click Here.
Documents Required With The Hard Copy:
Copy of 10th (HSC) Certificate

Copy of 10th (HSC) Mark Sheet

Copy of Conduct Certificate

Copy of Cast certificate if any

Copy of Sports/NCC/Guide Scout Certificate if any
You have to pay the APPLICATION FEE mentioned on the top of your application at the SAMS centers. And you will get a receipt having a MRN number. Keep this receipt for future use.